Creating innovative programs and experiences
Creating innovative programs and experiences
We have a number of individuals who not only come to climb with us, but who have also started to contribute to our growth. This may be in equipment modifications/improvements/innovations, networking/collaborations, and mentoring and coaching.
These people are important members of our team, and we'd like to introduce you to a few of them.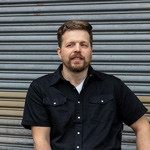 Hello everyone- I started climbing with Adaptive Climbers 2 years ago. It's been an amazing experience of self realization and reconnection. When I came to adaptive climbers I was under a great deal of distress. Climbing has helped me get back on my feet.
It's a sport of self realization, confidence building, emotional intelligence and beauty. There is absolutely nothing easy about leaving the safety of the the things we know, preparing to scale a rock face, taking the leap and implementing action. I have been working with the climbing team building some safety climbing gear, socializing… I strongly recommend that if you are at a point in your life where you looking for like minded people to scale mountains with, contact Adaptive Climbers!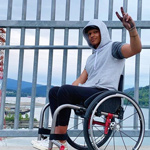 A para athlete,fitness enthusiast and Instagram superstar who uses climbing to challenge himself.
In his words: "My name is Paulo and I use a wheelchair. I was in a motorcycle accident when I was 19 that broke vertebrae's T2-T10. As a result I am now a T3 paraplegic which means I can't move or feel anything below my chest. Its been 2 years since my accident and I have filled the time trying to see how far I can physically push my body. Climbing is a great way to do this and which is why I enjoy it so much."
Completely blind since birth, Donovan Tildesley is a 35-year-old Vancouver native. He is a 4-time Paralympian (2000-2012), and a 5-time Paralympic medalist in the sport of swimming.A General Insurance Broker at Vancouver's Buntain Insurance Agencies Ltd. he is an avid downhill skier, who also enjoys wine tasting, radio broadcasting, bad jokes, and public speaking.

In search of a new summer sport he tried climbing in 2017 and got hooked. With CACS he completed two blind first ascents on Squamish multi-pitch climbs in Summer 2019.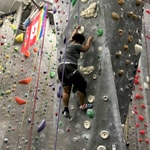 For a long time after my accident I didn't feel like I had a purpose. Around 2018 I was a bit down in the dump, I didn't want to do anything. One day I felt like there was a heavy load lifted off me. I was reborn. I started believing in myself more. I took charge of my life. I became more focused. Through working out I could feel my endorphins clearing out the fog. The more I pushed the more I was able to do. I started making more friends and connecting with my community.

The first time I went rock climbing, I was very scared. When I got to the top I realized my fear had disappeared. My legs felt much stronger although I thought I was unable to do it.
Rock climbing helped me to overcome some of my fears. It made me feel stronger mentally. I could finally breathe and see some challenges clearer.
I absolutely love rock climbing which allowed me to interact with some amazing people. This is something I am looking forward to doing more as it helps with my mobility.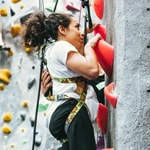 Communications' professional, Medical Writer and Editor and Founder of Flex for Access. Jess is an entrepreneur and fitness and sport enthusiast and adaptive fitness consultant. She founded Flex for Access Inc. a Registered Non-Profit Organization for adaptive fitness and sport promotion as part of the mainstream and has been working collaboratively with the Canadian Adaptive Climbing Society for a few years now, to facilitate opportunities for adaptive climbing. Jess loves the challenge of coordination and testing unique rock holds, and the freedom she feels when climbing. In her spare time, Jess enjoys reading, watching basketball, writing and working out. Those interested can check out Flex for Access' website to learn more about the Non-Profit Organization. www.flexforaccess.ca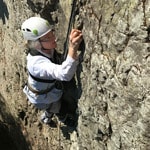 "It all started with a simple plan to try indoor climbing just once in 2017, to see how it all worked. The experience turned into a whole new passion for Georgina, who also enjoys handcycling and downhill skiing. When she isn't on a climbing wall, Georgina is advocating for safe and healthy workplaces in healthcare, in her role as Director for OH&S. She has CP and uses a power wheelchair for mobility."