Posted – October 2020
In the spring of 2019, the Canadian Adaptive Climbing Society (CACS) partnered with a Quest University Canada student and their faculty mentor to conduct a pilot study investigating the energetics of adaptive climbing. 
Now, several months after the completion of the project, we will catch up with Brent and Keenan to hear about the research process and their experience.
Firstly, you can find more information about this project here, including a great presentation by Keenan. 
The full project PDF can be found here.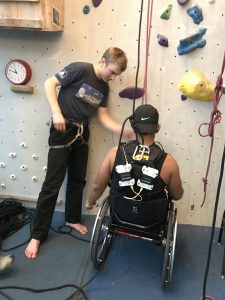 How did you connect?
K: I was introduced to Brent at a fundraising film festival at Quest University Canada. Brent told me about the programming that CACS offers, which got me excited to volunteer for the organization. I also mentioned my interest in conducting physiology research with adaptive climbing athletes, which Brent seemed open to. Shortly after this conversation, I attended a CACS training session and volunteered for several days of programming. These sessions got me hooked: CACS programming is fun and rewarding for all involved. I also saw a great opportunity to expand the body of existing academic literature by focusing my undergraduate thesis project on the topic of adaptive climbing energetics!
B: We generally don't promote the need for volunteers, but instead believe that great people will reach out to us and emerge as passionate and trustworthy people to help us meet our mission. Keenan is one of those people right from the first conversation!
What was the goal of your research? What are "adaptive climbing energetics"?
K: When I first began considering conducting research with the CACS, my goal was to begin creating a database of "energetic costs" for adaptive climbers. Energetic cost refers to the level of aerobic strain an activity presents to the participant– for instance, running has a greater energetic cost than walking does. In able-bodied populations, most sports and daily activities have had their energetic costs classified through physiological research projects similar to ours. These classifications help medical and exercise professionals understand the intensity of each activity, which in turn allows them to make informed prescriptions of exercise for their clients. However, very few adaptive sports have been classified, including adaptive climbing. 
B: We were very interested to collaborate on this project as we are always wanting to refine our systems and approach. We want to know if we are doing any harm to any of our climbers, and this research will help us in understanding how to avoid putting anyone at risk of exerting more than is safe. We ultimately want to work with each climber to find the best climbing system so that they can progress in their skill and confidence as a climber, without doing any harm. 
K: We had a pretty lofty initial goal: to make energetic cost classifications for 5-10 different types of disability. This goal ended up being too large of an undertaking for our timespan, so we ended up focusing on adaptive climbers who have spinal cord injuries. 
So the goal changed? What was that process like?
K: For me at first, it was a bit hard to swallow the decrease in scope– it felt a bit like giving up on the breadth of the project. However, as time went on, it became clear that the logistical difficulties had made the decision for us. Brent kept after it on the logistics side, and eventually we were able to have some successful days of data collection. Flexibility and rolling with the punches were both key skills to have– a good learning process for me. In the end, our project looked more like a pilot/feasibility study than a full-blown research study… and that's OK, as testing the feasibility of our design is a necessary step towards further research!
B: Projects always change and adapt. We are pretty good at this, and did the best we could in order to get the testing done. Some of the logistics are always a challenge with respect to climbing. It may be transportation, working out calendar conflicts with climbing facilities, or having enough volunteer help. For this project all three became hurdles that took some time to overcome. Keenan was persistent and motivated, and his passion in the end was what allowed us to get some testing done. 
Sounds complicated! What kind of results did you find?
K: Well, I think one of the main non-quantitative results was that conducting this type of research is absolutely feasible. There are a lot of complex variables to account for when collecting energetics data on adaptive climbers, and we were fairly successful at doing so.
For the full results, I would recommend checking out the linked PDF and my virtual thesis presentation video. However, I can comment on some initial results we found. Both participants experienced lower aerobic exertion than has been documented in the literature for any level or style of climbing. In contrast, our participants were much closer to their age-predicted maximum heart rates than has been documented in able-bodied climbers on climbing routes of similar difficulty. 
Very interesting! Why do you think that the energetic cost was so much lower?
K: Great question– to answer it confidently, we would need to conduct further research. We think that these results may be explained by the suppressed autonomic cardiac physiology of individuals with spinal cord injury, but can't be sure without further testing. 
B: We were surprised by these initial results. We had thought the opposite actually, and this initial result is the reason it will be very valuable to continue this research. We want to make sure that we aren't putting any climber at risk, and because there is so little research like this out there, we are going to take a very cautious approach moving forward. We may begin monitoring climbers heart rate and oxygen saturation before and right after a climb in order to best understand each individual and their energetics outputs and demands. 
It sounds like there is lots of potential for further research here.
K: For sure! There is potential for another student to take this project on at an undergraduate or masters level. That's what it would take to seek more definitive results– which was the original goal of this research project. After all, it would be fantastic to classify the energetics of adaptive climbing in a way that would be useful to adaptive climbers and their health practitioners. 
B: We are very excited to take this new insight and continue improving our approach to supporting our climbers. Our intention is to approach programs that may want to expand on this project and produce more data with a larger cross-section of the population. This will greatly inform our climbers safety and progression, help us in refine our training sessions that we provide to climbing facilities, and will greatly affect how we plan competitive climbing which we hope to support the development of across Canada in the future. 
Do you have any recommendations or reflections for people interested in conducting or participating in adaptive climbing research?
K: Get in touch with me, Brent, or Kate! We would be excited to hear from you. Other than that… if you have a deadline, start way earlier than you think you need to. This whole "academic research" business can be a painfully slow process, even when you are devoting all your time to it. 
B: We are looking forward to meeting the next person as passionate and motivated as Keenan who is interested in expanding on this project and providing our climbing community with further insight. 
Is there anything that we didn't talk about that you would like to mention?
K: I'm very grateful to Brent and my faculty supervisor Molly Welsh for supporting me through my first research process. It really wouldn't have happened without them. My participants and all the people who helped during the data collection day really made it a fun experience– big kudos and thanks to them too. In addition, Kate from CACS Toronto provided me with very thorough and insightful editing on my thesis, which I am very grateful for. 
And to you readers– thanks for following along! Consider this an open invite to get in touch with me about this project. I would be very excited if anyone had ideas or interest in continuing the project. You can find my contact information at the end of my thesis presentation video (linked at the beginning of this blog post).
B: I just want to thank Keenan for his commitment to supporting us, and we look forward to climbing with him next time. We also want to thank the climbing facility at UBC, The Aviary. Lastly a big thank you to Molly Welsh and Quest University Canada. 
Awesome. Thanks, guys! If you've read this and are interested in conducting research with the  Canadian Adaptive Climbing Society, please email Brent Goodman (Co-executive director, [email protected]) or Kate Stewart (Co-executive director, [email protected]).